Take a deep breath, believe things can change.
Endless tears,
wringing hands,
an unexplained stomach ache,
intentional stalling,
constant questions,
worry, more worries,
and an overwhelming need for reassurance.
You know the frustration.
You struggle with the heartache.
You wish for a perfect season, but you have an anxious child.
During the holiday season when schedules change anxiety often ramps up. Anxiety can feel like an unwanted house guest overstaying their welcome. Your child may have more worry or need more reassurance than normal as the hustle and bustle begins. This can feel daunting and cause you to throw up your hands in despair.
Take a deep breath, believe things can change.
Try these 3 simple exercises with your anxious child. It will be the best gift you could give them this holiday season.
1. Breath
Teach your child to slow down their bodies and minds by taking time to intentionally breath deeply. Do this with your child, pretend to hold a tray of just baked cookies fresh from the oven and take a big smell in. Since they are still too hot to eat you have to blow on them to cool them down. Pretend this together 4-5 times in a row for maximum benefit.
2. Create a daily/weekly pocket calendar
By sharing the daily agenda with your child you are creating a mini-schedule that can help relieve any extra stress due to the differing routine. Be sure to include things that don't change along with things that are new. Here's a site to find a great blank calendar to use!
3. Review your day together at night
This is a great way to connect with your kid, build confidence and ease worries. Share highs and lows of the day, provide reassurance, sympathize with frustrations and reframe challenges! Start by asking, "I wonder what was your favorite part of the day?"
Anxiety is tough, but with the right tools you can help your child manage their anxiety this holiday season.​
Merry Christmas! – Susan Stutzman, MA, LCPC, RPT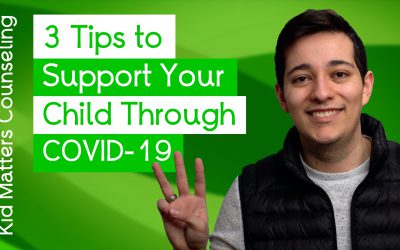 Feeling anxious and irritable while in the middle of chaos and unknown is normal. Knowing how to guide your child through a normal day during our COVID-19 crisis is hard and can even feel impossible. Today I'm going to share 3 tips on what you can do to support your...
Kid Matters Counseling has trained therapists ready to help both kids and parents walk through the tough moments in life.
End the frustration & the confusion and let's work together!
Call For A Free Consultation Today!
We help anxious kids and frustrated parents. We serve Hinsdale & the Western Suburbs of Chicago.
Made with ♥︎ in Hinsdale, Illinois for Chicago
Built By Brand Your Practice.
© 2020 Kid Matters Counseling, P.C.
Kid Matters Counseling, P.C. DISCLAIMER: This website and blog are for informational, educational and general discussion purposes only. It is understood that no guarantee or warranty arises from the information provided, discussed or commented upon in this. website and blog nor does it constitute legal or other professional advice on any subject matter. Access to this website and blog is voluntary and at the sole risk of the user. If you think that you have a medical emergency (including clinical), call your doctor or 911 immediately. A licensed medical professional should be consulted for diagnosis and treatment of any and all medical conditions. While the information contained within this website and blog is periodically updated, no guarantee is given that the information provided is correct, complete, and/or up-to-date.