(portions this article first appeared in the Hinsdalean November 16, 2017)
Christmas break is just around the corner.  I can feel my breath getting shorter just thinking about the range of emotions that will surely be present in my house.  It's nothing new, in fact, schedule changes always bring a range of emotions to the little people in my house, but this year I want it to be different.
I know anxiety during any type of transition is normal.  All transitions, even good ones, are a change in what is familiar.  What is hard as a parent is that all transitions aren't equal.  
Each child is different.   One child may experience Christmas as exciting, another might show overwhelming social anxiety.   
As a parent with an anxious child I know how difficult it can be.
Anxiety is a sneaky thing. When it shows up it can overtake the entire body.  Like when a child has turkey touching the cranberry sauce on their plate and throws a massive fit.  
Or, when it's time to play with cousins after dinner they don't want to leave your side and if you try to coax them they end up crying and making a huge scene.
If any of this feels all too familiar with your experience of parenting you might be dreading the upcoming Christmas break. But you don't have to. 
Working with kids and parents every day I know there are some tried and true ways to decrease anxiety and make the transition into the holiday season a little smoother.
I'm doing two things with greater intentionality this season to lower my families anxiety around the holiday transitions:  I'm going to tell my kids more stories and I'm making a family calendar.   
Here's what I mean and why I'm choosing these two things:
Storytelling 
Telling stories helps prepare your child through narrative form about what to expect when they encounter a new or different routine.  It can also help you prepare them for different feelings and situations that a changed schedule can bring. 
Telling your child a story with as much detail as possible will help make the unknown a little more familiar going into it.  Include in your stories feelings leading up to Christmas and descriptions of what the experiences may be like.  Also include details about the change of schedules, new or old feeling that may show up, and when the holiday schedule will end!  And, don't forget to include problem solving for what to do in times of worry, what to remember, what to say and the options they will have through this transition!
Making a Calendar
Change can feel overwhelming especially for kids because without routine there are a lot of unknowns.  It's easy to forget that kids need a lot of help remembering, especially when the routine has changed.  
One practice that can help make the unknown known is to make a calendar with words and pictures that can be placed in a highly visible spot in your home.  Writing out what your child can expect helps your child conceptualize what is coming.  
It's also a helpful way to preempt concerns about new routines of coming and going.
(Here's a simple example of what I started with my kids)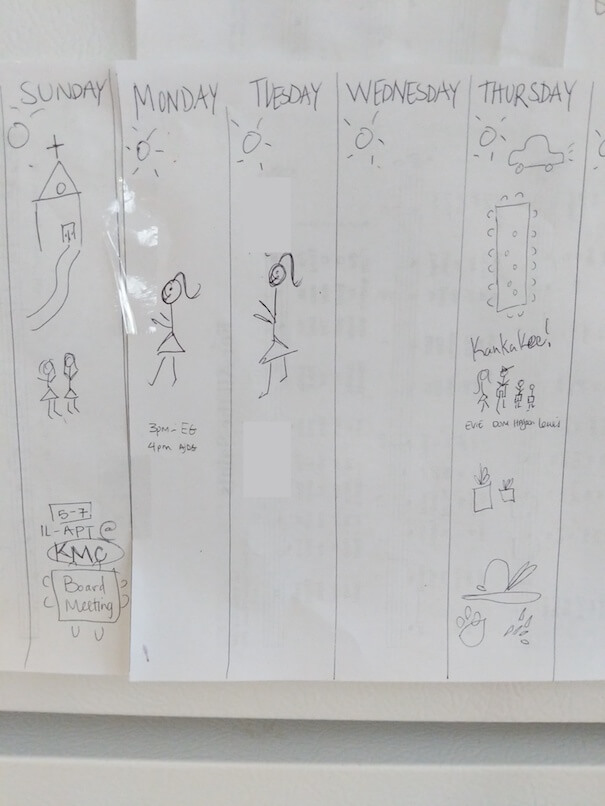 Want to lower the stress level in your family this Christmas? Consider joining my family in storying and calendaring for upcoming transitions.  Try adding these two things to your holiday preparation list today.
Give yourself the gift of helping your child manage their anxiety around transitions this season!
Photo by Brigitte Tohm on Unsplash
Kid Matters Counseling has trained therapists ready to help both kids and parents walk through the tough moments in life.
End the frustration & the confusion and let's work together!
SCHEDULE APPOINTMENT
We help anxious kids and frustrated parents. We serve Hinsdale & the Western Suburbs of Chicago.
Made with ♥︎ in Hinsdale, Illinois for Chicago
Built By Brand Your Practice.
© 2022 Kid Matters Counseling, P.C.
Kid Matters Counseling, P.C. DISCLAIMER: This website and blog are for informational, educational and general discussion purposes only. It is understood that no guarantee or warranty arises from the information provided, discussed or commented upon in this website and blog nor does it constitute legal or other professional advice on any subject matter. Access to this website and blog is voluntary and at the sole risk of the user. If you think that you have a medical emergency (including clinical), call your doctor or 911 immediately. A licensed medical professional should be consulted for diagnosis and treatment of any and all medical conditions. While the information contained within this website and blog is periodically updated, no guarantee is given that the information provided is correct, complete, and/or up-to-date.   See our complete Privacy Policy and Terms of Service.