It may seem like your child is just acting out to get attention, but most of the time, tantrums are the result of very big feelings that kids experience without the ability to regulate them.
*Originally published as a guest post on Hinsdale Area Moms Instagram page.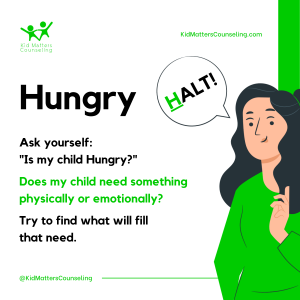 Hungry
Ask yourself, "Is my child hungry?"
Does my child need something physically or emotionally? Try to find out what will fill that need.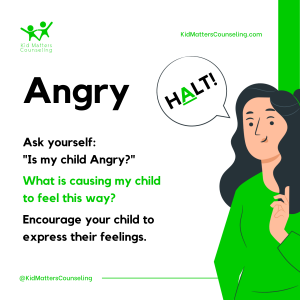 Angry
Ask yourself, "Is my child angry?"
What is causing my child to feel this way? Encourage your child to express their feelings.
Lonely
Ask yourself, "Is my child lonely?"
Is my child having difficulty connecting with others? Talk about it and ask questions.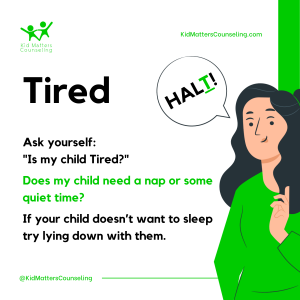 Tired
Ask yourself, "Is my child tired?"
Does my child need a nap or some quiet time? If your child doesn't want to sleep try lying down with them.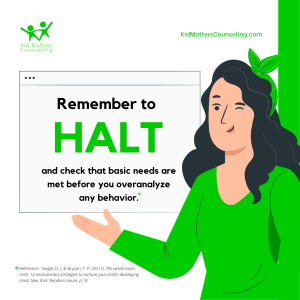 Remember to HALT and check that basic needs are met as the first response to fixing unwanted behaviors such as tantrums and meltdowns.
We help anxious kids and frustrated parents. We serve Hinsdale & the Western Suburbs of Chicago.
Made with ♥︎ in Hinsdale, Illinois for Chicago
Built By Brand Your Practice.
© 2023 Kid Matters Counseling, P.C.
Kid Matters Counseling, P.C. DISCLAIMER: This website and blog are for informational, educational and general discussion purposes only. It is understood that no guarantee or warranty arises from the information provided, discussed or commented upon in this website and blog nor does it constitute legal or other professional advice on any subject matter. Access to this website and blog is voluntary and at the sole risk of the user. If you think that you have a medical emergency (including clinical), call your doctor or 911 immediately. A licensed medical professional should be consulted for diagnosis and treatment of any and all medical conditions. While the information contained within this website and blog is periodically updated, no guarantee is given that the information provided is correct, complete, and/or up-to-date.   See our complete Privacy Policy and Terms of Service.