The internet can be tricky for parents.  How much time do you allow your children to spend on it, what rules are in place around the usage of devices, choosing apps, etc.?
Having conversations with your child about internet etiquette and safety is important.  You may feel like your words are going in one ear and out the other at times but don't let that stop you from having the conversation.  Keep having the conversation.  Teaching children about internet safety does not just happen with one conversation, you will need to be consistent. 
If you have read any of my blogs before you know I love to use books as a jumping off point for conversations with kids.  I like books because you can lighten up hard conversations through stories.  And stories are a way to explain tough subjects, share caution, and teach options in child-sized portions.  
Internet safety is important at any age but below you will find 5 books I think every grade school parent should know about and read with their child.
The Technology Tail by Julia Cook
Technology Tail is, in my opinion, a very well written and illustrated story that brings to life how pictures posted and things written on the internet impact people both for good and for bad.  It simplifies what a digital footprint is for children and the impact everyday postings can have on their lives and the lives of others.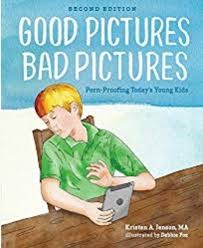 Good Pictures Bad Pictures (and Good Pictures Bad Pictures Jr.) by Kristen A. Jenson
I love using this book to explain to children what type of pictures and images are good and bad for growing minds and how to tell the difference.  With the prevalence of sexually explicit content just clicks away from any site, this is a must read for parents of young children.
Clicker the Cat by Kyla Cullinane
Clicker the Cat is a cat who learns about internet safety in multiple different ways. The safety that is most emphasized is how to manage the pull of the internet and not overusing it.  There are helpful suggestions for parents on how to talk about the things that Clicker experiences in this book as well as more books about Clicker in the series that discuss things such as Apps and social media behavior.  
Chicken Clicking by Jeanne Willis & Tony Ross
Chicken Clicking is a delightful way to begin to explain through story to children ramifications about internet usage.  This story is a great beginning point for conversations about topics including internet purchases, internet friendships and people not always being who they say they are.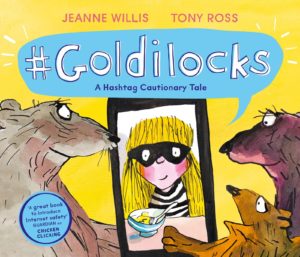 This book is a contextualized and modern version of the story Goldilocks and the three bears. It is similar to Chicken Clicking (written by the same authors) but there are many differences as well.  I also like that there is a free downloadable e-book on this site that you can read to your children about sharing information with the world via social media.
Internet safety is important at any age but especially for young children. Pick up one or all of these books today at your local library or on Amazon and begin the important task of helping keep your child internet prepared, safe and savvy.  If you need additional resources to help you with internet safety or with how to help your kids navigate tricky things in the digital age we are here to help! Parenting is challenging and we've got you covered. Check out our other blog posts on managing screen time or give one of our parent coaches a call today for a free consult.   
Don't parent alone.
Kid Matters Counseling has trained therapists ready to help both kids and parents walk through the tough moments in life.
End the frustration & the confusion and let's work together!
SCHEDULE APPOINTMENT
We help anxious kids and frustrated parents. We serve Hinsdale & the Western Suburbs of Chicago.
Made with ♥︎ in Hinsdale, Illinois for Chicago
Built By Brand Your Practice.
© 2023 Kid Matters Counseling, P.C.
Kid Matters Counseling, P.C. DISCLAIMER: This website and blog are for informational, educational and general discussion purposes only. It is understood that no guarantee or warranty arises from the information provided, discussed or commented upon in this website and blog nor does it constitute legal or other professional advice on any subject matter. Access to this website and blog is voluntary and at the sole risk of the user. If you think that you have a medical emergency (including clinical), call your doctor or 911 immediately. A licensed medical professional should be consulted for diagnosis and treatment of any and all medical conditions. While the information contained within this website and blog is periodically updated, no guarantee is given that the information provided is correct, complete, and/or up-to-date.   See our complete Privacy Policy and Terms of Service.